Our Mail Bid Sale 53 is online !
The iNumis Team the
Tuesday 24 January , 2023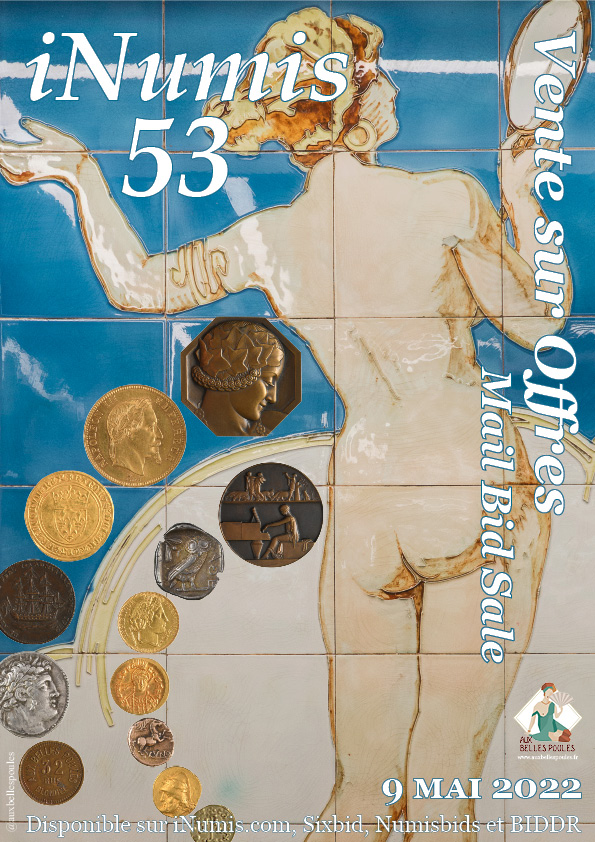 Chers tous,
La Vente sur Offres iNumis 53 est maintenant en ligne !
iNumis n'imprimera pas de catalogue papier pour cette vente : nous vous demandons de bien vouloir nous faire parvenir vos ordres via le bordereau d'ordres habituel (que vous trouverez ici) ou via les plateformes Sixbid, Numisbids et BIDDR. Vous pouvez néanmoins consulter l'article habituellement inséré en tête de catalogue ici : La jetonophilie et le plus vieux métier du monde.
Nous remercions chaleureusement M. Renaud Desse d'avoir bien voulu assumer la totalité du travail d'expertise et de photographie de cette Vente 53 😉
Pour cette vente, iNumis s'associe AUX BELLES POULES, ancienne maison close parisienne transformée en lieu d'événements !
Du fait de la présence, parmi les lots de la vente de plusieurs jetons de maisons closes françaises, iNumis vous propose un petit saut dans le temps et vous propose de participer au tirage au sort qui aura lieu après la clôture de la vente. En jeu : 3 invitations pour 2 personnes pour assister à une Visite-Conférence de cet établissement au passé subversif 😉
Pour participer au tirage au sort, c'est très simple : faites nous parvenir vos ordres avant le 9 mai prochain et signifiez-nous par mail ou par téléphone votre volonté de faire partie du jeu !
Les gagnants seront contactés par mail ou par téléphone dans les jours suivant la clôture.
***
Dear Customers,
We are glad to announce you that our Mail Bid Sale iNumis 53 is now available online, in our website and on the Sixbid, Numisbids and BIDDR platforms.
Please, note that there will be no printed catalogue for this sale : we invite you to bid online via the mentioned platforms or via the bid form available here.
We sincerly thank Mr Renaud Desse for being our one and only expert and photographer for this sale 😉
The sale is viewable at our Parisian shop, by appointment only, during the opening hours.
"AUX BELLES POULES" : iNumis turns your clock back ! Once the sale is over, three invitations for two persons for a lecture tour of the ancient Parisian brothel "Aux Belles Poules" will be drawn.
If you wish to participate to the lucky draw, after bidding, please inform us by sending a mail or by phoning us.
The winners will be contacted by email or by phone.
See you soon !